Cioppino seafood recipe, a Tale of Three Recipes
Cioppino – Seafood Stew – (full version)
Cioppino – Seafood Stew – (short version)
What is Cioppino?

Cioppino is essentially a seafood stew. It's origins lie in the Italian region of Liguria which is a wonderful coastal area in the northwestern part of Italy. Portofino and Cinque Terre are beautiful towns mobbed by tourists pre-COVID and the capital of the region, Genoa, is associated with Christopher Columbus who was probably born there.
Immigrants from Liguria settled in San Francisco at the beginning of the 20th century and they brought their regional seafood stew with them which has since taken on the distinctly Bay Area character that we enjoy today.
The dish is not always on the menu in Italian restaurants but definitely try it if it is and better yet, make it at home! There are a lot of layers and you do a lot of chopping but when you taste the result you and your guests will be thrilled.
The NamiChef way is to find recipes that we can visualize and taste in our imaginations and then try to make them at home. As we practice we'll discover more and more dishes we can make that taste as good or better than anything we have ever had in restaurants. Even in a 5' x 7' Greenwich Village kitchen!
In doing my research I discovered that I found elements of three different recipes that I liked so I used parts of all three.
I personally liked Giada de Laurentiii's version, which you can explore on the below-mentioned link of the food network site: https://www.foodnetwork.com/recipes/giada-de-laurentiis/cioppino-recipe-1916710
I also took some elements that I liked from the Epicurious recipe: https://www.epicurious.com/recipes/food/views/cioppino-seafood-stew-with-gremolata-toasts-51248830
Finally, I found a good step-by-step video on YouTube from "Gus In the Kitchen":
One thing that made me nervous was that each of these recipes are for 6 people so I cut everything in half. Things turned out really well but I am always hesitant about changing the proportions of each component of the dish and I didn't change everything exactly proportionally. However, after the success of this dish, those fears are dissipating which is a key concept of NamiChef – the more we cook at home, the more confident we get.
Here is a list of my ingredients for cioppino seafood recipe:
2 tablespoons of extra virgin olive oil (what's your favorite? I use Trader Joe's for cooking but I am open to suggestions)
½ onion chopped
½ fennel bulb chopped
2 shallots chopped
4 cloves of garlic minced (remember that if garlic is in season, buy it at the farmer's market if you can, it's worth it)
3 cups of fish stock (my local Citarella carries this, Gus's YouTube video shows him using "Seafood" stock,
Epicurious calls for chicken stock but I wanted to stick to something from the sea)
4 ounces of bottled clam juice
14 ounces of San Marzano tomatoes crushed by hand or with a potato masher (I used Trader Joe's diced
tomatoes but next time I'll definitely use the San Marzano's)
2 ½ tablespoons of tomato paste
¾ cup dry white wine (cheap is fine, you just want the acid. Just never use anything called "Cooking Wine")
2 tablespoons of chopped flat leaf parsley
½ teaspoon of crushed red pepper (add more if you like things spicy)
½ teaspoon of dried oregano
1 bay leaf (totally optional) – I had some fresh basil lying around so I chopped it up and threw it in. Whenever I buy fresh herbs, I always seem to have lots leftover. Any ideas on how best to keep them fresh would be greatly appreciated.
The stars of the show (fresh seafood):
4 jumbo shrimp, peeled and deveined
4 large scallops
4 littleneck clams
½ pound of firm fish (I used cod)
½ pound of mussels (I threw in about 20)
1 lobster tail (the recipe calls for crab. If you want to be really regional you should use Dungeness crab and I saw a lot of Alaskan king crab in recipes but the lobster tail was just easier and less expensive
Buttered and toasted sourdough bread to dip in the broth
Whoa!!! Lots of ingredients and prep, right? That's the bad news. The good news is that once your ingredients are ready, it's just a matter of preparing the broth, the fish, and the bread.
Broth:
Sauté the onions, fennel, and shallots until translucent about 10 minutes
Add the red pepper flakes and the garlic and sauté for a minute (DON'T BURN YOUR GARLIC)
Stir in the tomato paste until everything is coated
Add the liquids and oregano and simmer for 30 minutes
NamiChef tip (or observation): All of the recipes said to simmer with the pot covered. I did so and after 30 minutes I wasn't happy with how much my broth thickened so I uncovered my pot and simmered that way until I was happy with the thickness. Also, remember you'll be adding mussels and clams that, when they open, release additional liquid into your broth.
Essentially, uncovering your pot makes the broth thicken more quickly.
Seafood:
If you've seen my Paella and Seafood pasta blogs, I have a couple of tips.
NamiChef tip: Take your shrimp shells and saute them in hot oil as a way to infuse your oil with their flavor. BE CAREFUL OF SPATTERING
NamiChef tip on cioppino seafood recipe: (H3)
Sear your scallops, shrimp, lobster tail, and fish in the hot shrimp-infused oil. That caramelization will add extra flavor rather than just poaching them in the broth. Also, if you develop any brown bits on the bottom of your pan (fond), take a little white wine or stock and deglaze (about a ¼ cup). When that thickens, throw it into your soup.
Now you are on the home stretch. Throw in your clams and mussels into your broth and this time put the lid on, and in about 5 minutes all of those bivalves should be opened. If some don't give them a bit more time and if they still don't open, discard them.
Check your broth for salt.
Now it's time to add your shrimp, scallops, lobster tail, and fish and simmer for 5 minutes.
At this point, take a thick slice of sourdough bread, toast it, rub a glove of garlic on it to flavor the bread with the garlic's oils, butter, sprinkle on the parsley, and some salt…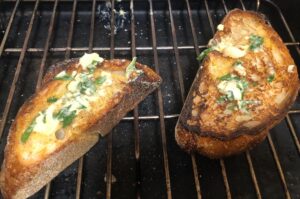 Now your cioppino seafood recipe is finally ready to plate:
This is definitely a new part of my repertoire and I am looking forward to cooking this for friends and family because, as we say at NamiChef:
With the right ingredients and a little bit of guidance when you need it, you are already one of the best chefs that you know.